February 27, 2010 01:01 IST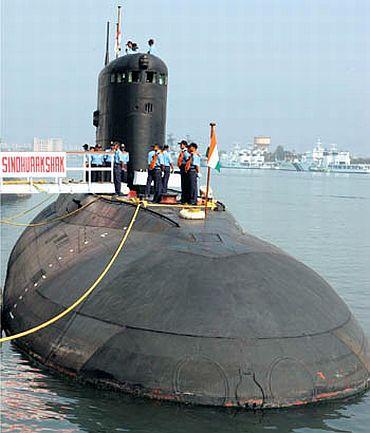 A sailor was killed and two others sustained injuries after fire broke out in a naval submarine at Naval Dockyard in Visakhapatnam [ Images ] city of Andhra Pradesh on Friday evening, police said.
However, no case has been registered in this regard, they said adding a report was awaited from the Navy officials.
When contacted, a police official attached to the Malkapuram Police in Visakhapatnam city, confirmed about the mishap and said a 24-year-old sailor died and two others suffered burn injuries, after fire broke out in Sindhurakshak submarine at the shipbuilding centre of the naval dockyard.
The police official said they were yet to receive a formal report and a complaint from the Navy to enable them to register the case.
It was still not clear how the fire broke out and how many sailors or workers were engaged in work on the submarine when the incident happened, he said.