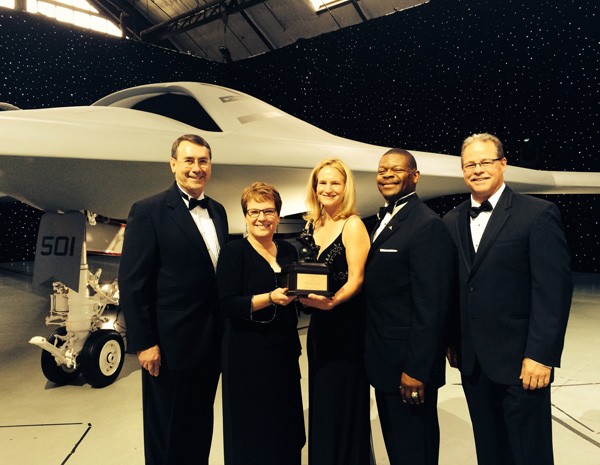 Pictured from left: Rob Hughes, principal marketing manager; LeAnn Ridgeway, vice president and general manager, Simulation and Training Solutions; Eileen Leonhardy, principal account manager; Jody Wilkerson, principal account manager; and Rick Tomy senior director, Airborne Communication Products.
Cedar Rapids IA May 30, 2014 – Rockwell Collins is a member of the X-47B Unmanned Combat Air System Demonstration (UCAS-D) team, which received the 2013 Robert J. Collier Trophy at a ceremony Thursday night. The National Aeronautic Association (NAA) presented aviation's highest honor to the team, which is comprised of leaders in government, business and industry.
The NAA voting committee recognized the U.S. Navy, Northrop Grumman and industry partners for "developing and demonstrating the first unmanned, autonomous air system operating from an aircraft carrier."
Rockwell Collins' Tactical Targeting Network Technology (TTNT) and ARC-210 radio are part of the X-47B architecture and play essential roles in helping the aircraft perform vital functions.
"We're proud that TTNT and the ARC-210 played a role in helping the X-47B UCAS-D team achieve this most prestigious of aviation awards," said Phil Jasper, executive vice president and chief operating officer, Government Systems, for Rockwell Collins.
The TTNT scalable ad hoc network provides users an extremely fast means to move critically important information between network nodes at very high data rates over long ranges. Minimal preplanning is necessary, so TTNT users easily enter and exit the network. This reliable and secure IP-based networking capability for manned and unmanned platforms complements other communication and tactical data link capabilities.
With more than 35,000 fielded units, the ARC-210 is the most widely used airborne radio in the Department of Defense, and continues to provide the warfighter with the latest communications capabilities. The latest ARC-210 radio features a software-defined Multi-Waveform Architecture, which is an optimized Software Communications Architecture with embedded programmable next generation crypto, a classified Ethernet data interface, and an extended frequency range to 941 MHz.
On May 14, 2013, the X-47B was the first unmanned, tailless aircraft to catapult launch from an aircraft carrier, the USS George H.W. Bush (CVN 77). Three days later, the aircraft made the first carrier-based touch-and-go landings. On July 10, 2013, the X-47B made history again on CVN 77 by being the first unmanned, tailless aircraft to make an arrested landing aboard a carrier.
Conferred annually, the Collier Trophy recognizes one team or individual who has made "the greatest achievement in aeronautics or astronautics in America" during the previous year. Past recipients of the trophy include: Howard Hughes (1938), Neil Armstrong (1969), the B-2 (1991), Global Hawk (2000) and SpaceShipOne (2004).