Glasgow June 8, 2015 - As the Defence Secretary visits the Clyde to cut steel on the Royal Navy's second Offshore Patrol Vessel, he writes about what these new ships mean for the Navy, Defence, Scotland and the United Kingdom.
I am very pleased to have visited Govan today, celebrating yet another achievement borne out of the shipyards of the Clyde and more widely, of the United Kingdom's shipbuilding industry.
Whilst steel cutting nowadays is rather less physical and more high-tech than it once was, today's first cut of our second Offshore Patrol Vessel (OPVs) will carry the very proud tradition of shipbuilding in Scotland through into the next generation and beyond, with the OPV programme sustaining around 800 Scottish shipbuilding jobs on the Clyde.
Great news for Scotland, and great news for the Royal Navy: the second of three OPVs, HMS Medway will be a vital addition to our growing equipment bank. A versatile, cutting-edge ship with a flight deck capable of carrying our latest Merlin helicopters, HMS Medway will help to defend UK's interest, whether at home or abroad.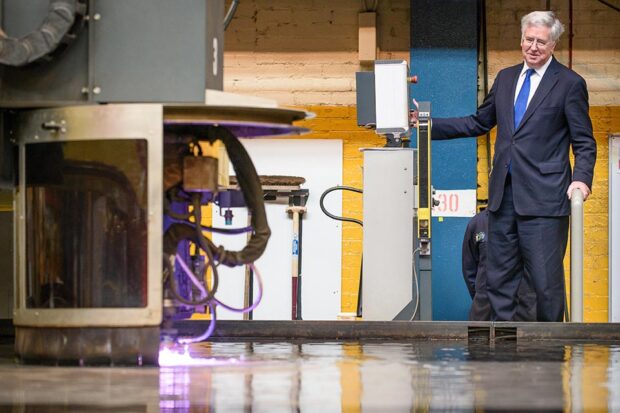 Secretary of State for Defence Michael Fallon operates the laser cutting machine. BAE photo by John Linton.
Beyond Medway, Scottish engineers, designers and developers are continuing to contribute to the UK's already impressive naval capability, putting the finishing touches to Lower Block 4 of the second aircraft carrier, HMS Prince of Wales. Over £2.43 billion has been invested so far in the Queen Elizabeth Class work in Scottish yards, supporting some 4,000 jobs and hundreds of apprentices at both Rosyth and the Clyde.
Also joining our two carriers will be a fleet of Type 26 Global Combat Ships, a projection of power across the world.
There can be no doubt then about this Government's commitment to maintaining the capability to construct complex warships in the UK.
The specialist skills that I have witnessed today will ensure Scotland remains the very hub of UK Warship shipbuilding, building up our ships and industry ready for the future and for the security of our country.
Infographic showing key facts and figures on the Royal Navy Offshore Patrol Vessels