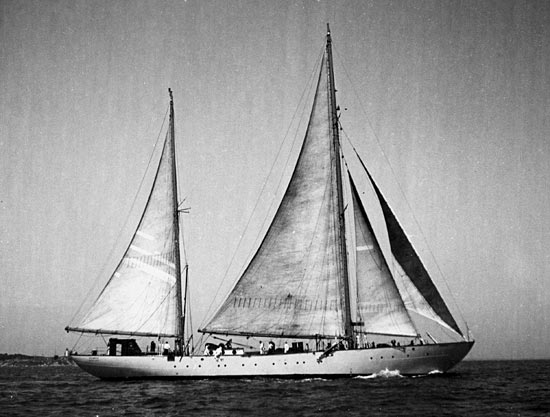 Atlantis, 1931-1964
Atlantis was the first Woods Hole Oceanographic Institution research vessel and the first ship built specifically for interdisciplinary research in marine biology, marine geology and physical oceanography. Columbus Iselin, her first master and a major influence in her design, felt that speed was not essential; steadiness, silence and cruising range were of primary importance.
Once built WHOI searched for an appropriate name for the research vessel. A trustee of the Institution, Alexander Forbes, had recently bought a schooner named Atlantis from Iselin. Mr. Forbes rechristened his schooner so the new research vessel could be named Atlantis.
The "A- boat" made 299 cruises and covered 700,000 miles, doing all types of ocean science. In 1966, Atlantis was sold to Argentina, refurbished, and renamed El Austral. It is used as a research vessel and is crewed by Argentine naval personnel.
Specifications
Built: 1931 in Copenhagen, Denmark.
Designed by Owen and Minot specifically for WHOI
Length: 143' 6"
Rig: Marconi Ketch
Sail Area: 7,200 sq. ft.
Beam: 29'
Main: 144' from water line
Draft: 18'
Mizzen: 100' from water line
Capacity: crew- 19, science- 9
(Photo courtesy of WHOI Archives)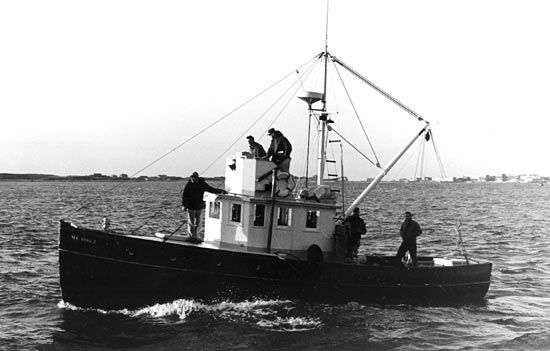 Asterias, 1931-1980
Named for the local starfish, Asterias was built of white and southern hard pine and was similar in design to commercial fishing boats of the era. The Asterias and the Atlantis were built as the Institution's first vessels.
The first Asterias made at least 10,000 short trips, from Maine to New York, primarily for the testing of scientific gear. Nearly every member of the scientific and technical staff had a need for Asterias at some time. Her excellent design and construction made her a natural seaboat.
Asterias was sold to Ocean Research Engineering in 1980. In 1985 Edwin Athearn, her former captain saved her from destruction and together with Dave Lewis restored the ship's name and condition.
Specifications
Built: 1931 by the Casey Boat Building Co., Fairhaven, MA, for WHOI
Length: 40.5'
Beam: 13.6'
Draft: 5'3"
(Photo courtesty of WHOI Archives)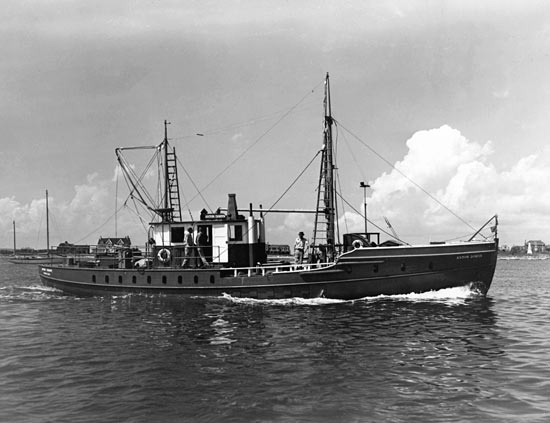 Anton Dohrn, 1940-1947
Anton Dohrn was given to the Woods Hole Oceanographic Institution in June 1940 for local-area scientific work. The vessel made at least 40 cruises from the Gulf of Maine to the coast of New Jersey, testing bathythermographs, underwater cameras, and other newly designed instruments, and conducting underwater sound transmission experiments and harbor studies. According to Dick Edwards, WHOI Marine Superintendent for many years, it took eight bilge pumps to keep Anton Dohrn afloat.
The vessel was sold in April 1947 and was to be used as a mail boat between New Bedford and Cuttyhunk Island.
Specifications
Built: 1911 in Miami, Florida, for the Carnegie Institution
Length: 70'
Beam: 16'9"
Draft: 6'
Capacity: crew- 29, science - 17
(Photo courtesty of WHOI Archives)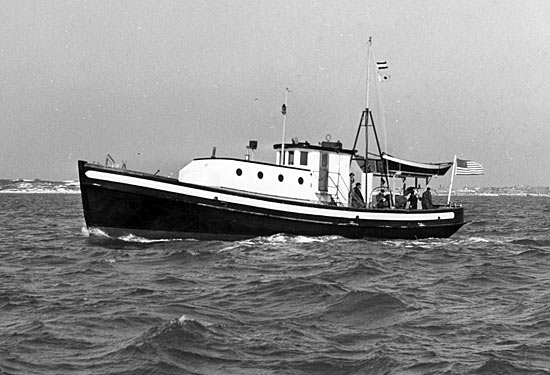 Balanus, 1946-1950
Balanus was used during the war years as a harbor transport. WHOI purchased the vessel in 1946 from Vita Lo Piccola of Boston for use primarily in coastal waters. Balanus made 26 cruises. Her work was mainly for physical oceanography, but also included plankton tows, camera work, instrumentation tests and current measurements. Balanus was sold in 1950 to D.L. Edgerton, a MD fisherman.
Specifications
Built: 1940-41 by Reid, Winthrop, MA.
Designed: Eldredge-McGinnis Co., Boston, MA, as a dragger
Length: 75'
Beam: 18'
Draft: 8'
Capacity: crew - 8, science - 5
Names: Little Sam (Q-68) 1941-1946
(Photo courtesty of WHOI Archives)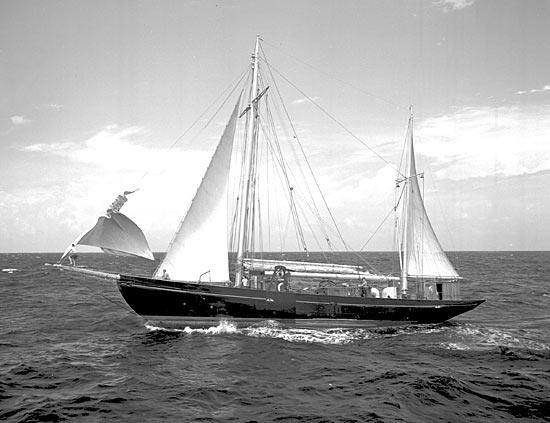 Caryn, 1948-1958
Rumor has it that Caryn was originally built specifically for smuggling. When the vessel was first launched, she carried 4,000 square feet of canvas. WHOI purchased Caryn in 1947 from her third owner, C.R. Hotchkiss of New York.
At WHOI, Caryn made 110 cruises, mostly along the East Coast through the Caribbean and around Bermuda. All types of oceanography were undertaken. The vessel was sold in 1958 to S.H. Swift, was renamed Black Swan, and engaged in charter trade. On New Year's Eve, 1974, at St. Maarten?s Island, West Indies, the vessel burned.
Specifications
Built: 1927 in Singapore by C.E. Nicholson
Length: 97.9'
Beam: 21'"
Draft: 11'3"
Names: Black Swan 1927-1930,
Santa 1930-1935,
Marie 1947-1948,
Caryn 1948-1958
(Photo courtesty of WHOI Archives)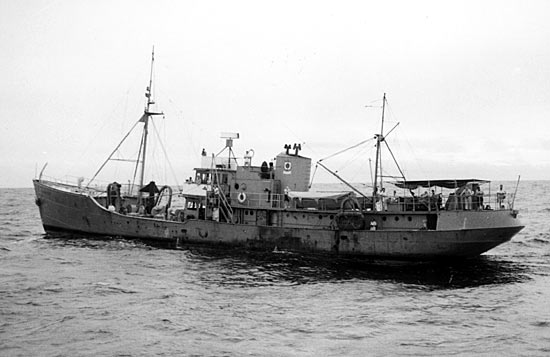 Albatross III, 1948-1958
The vessel first sailed under the name Harvard for the North Atlantic Fishery Investigations. In 1941 she was rebuilt, renamed Bellefonte and used by the US Navy for war patrol. Upon her return to Woods Hole in 1944, under the name Albatross III, the vessel was used intermittently until 1955, when funding became available. Albatross III was under full operation until 1959, when decommissioned and sold to a Hyannis, MA, fisherman.
Albatross III was loaned to the Woods Hole Oceanographic Institution from 1951-1952, and was also used jointly on other cruises from 1948-1959. Albatross III made a total of 128 cruises, all in the North Atlantic. Most of these were part of fisheries investigations, but many cruises included hydro stations, bottom photographs, drift bottle exercises, and current measurements.
Specifications
Built: 1926 as a steam trawler
Length: 179'
Beam: 24'
Draft: 12'
Capacity: crew - 21, science - 6
Names: 1926 as a steam trawler Harvard 1926-1941, Bellefonte, 1941-1948, Albatross III 1948-1959
(Photo courtesty of WHOI Archives)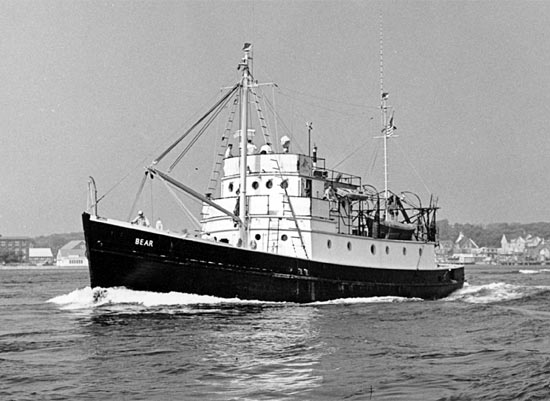 Bear, 1951-1963
Built during WWII as a troop carrier in the South Pacific, Bear was chartered by WHOI in 1951 and purchased in 1952. The vessel made 192 cruises in the western North Atlantic, venturing as far east as Bermuda. Bear made acoustic, bathymetric and seismic measurements, and participated in fish observations.
The vessel was sold in 1963 to a New Bedford fisherman and refitted as a scalloper.
Specifications
Built: 1941-1942 by Herreshoff, Bristol, RI, as a coastal transport
Length: 103'
Beam: 21'
Draft: 10'
Capacity: crew-23, science-36
(Woods Hole Oceanographic Institution)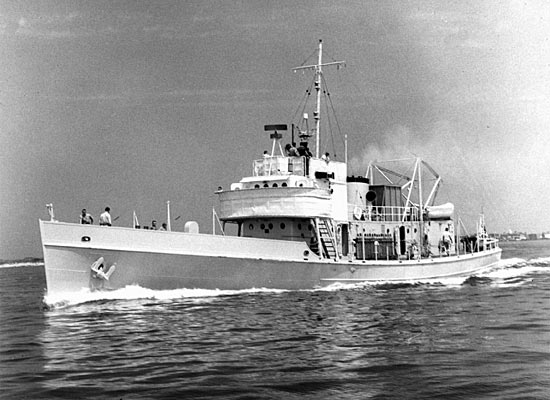 Crawford, 1956-1969
Crawford, a former US Coast Guard cutter, was transferred to WHOI in 1956. The ship underwent considerable renovation at Munro Shipyard in Boston, including an increase in her fuel capacity giving her a range of 30 days and 6,000 miles. She worked in the North and South Atlantic, including the Caribbean Sea amd carried specialized gear for studying hurricanes. The vessel was mainly used for working on hydrographic stations, in long line fishing studies, and in surveying for Texas Towers.
In a novel attempt to increase working space on the vessel, an aircraft wing was attached to her port side in 1980, though it was later dismantled and the experiment was never repeated.
Crawford made 175 cruises for WHOI until 1968. In 1970 the vessel was sold to the University of Puerto Rico.
Specifications
Built: 1927, Great Lakes
Length: 125'
Beam: 23'
Draft: 12'3"
Capacity: crew-17, science-9
(Woods Hole Oceanographic Institution)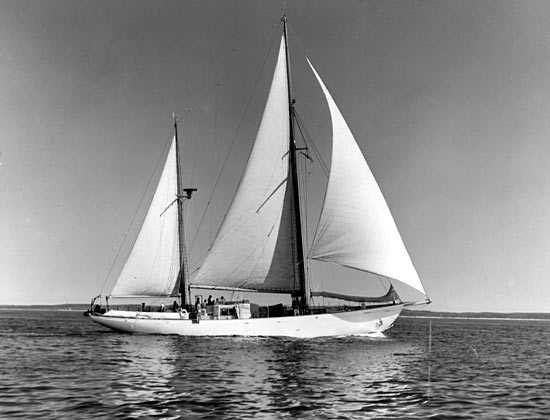 Aries, 1959-1960
The Aries, a 93 foot ketch, arrived in Woods Hole in March 1959 as a gift from R.J. Reynolds. She was refitted as a research vessel by June 1959 and was then used continuously on current measuring cruises off Bermuda as part of a joint project shared by WHOI and the British National Institute of Oceanography until August 1960. Her longest stay ashore was from December 14th, 1959, until February 2nd, 1960, when her engine was replaced by the a spare reconditioned and brought from England. Bermuda proved to be a particularly good base for the Aries since her fresh water storage limited her time at sea to about two weeks. Aries spent a total of 206 days at sea, 186 days of which were on cruises to deep-water, and of this deep-water time 129 days were spent in the selected working area. Captain J. W. Gates was in charge until after the refit when Captain H. H. Seibert took over until the end of the project. Mr. C. L. McCann was mate for the entire period.
Specifications
Built: 1953
Length: 93'
Beam: 19'6"
(Photo courtesty of WHOI Archives)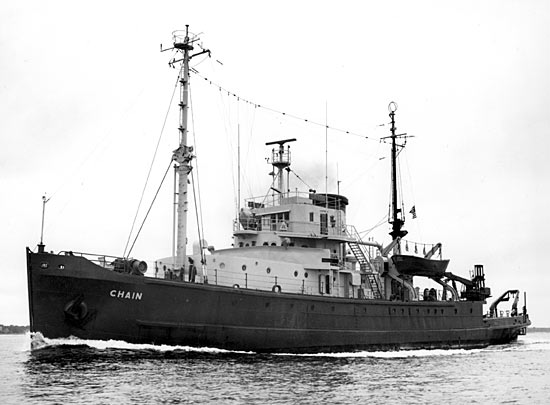 Chain, 1958-1979
In 1958, the Military Sea Transportation Service (MSTS), took over the operation of Chain, a Navy salvage vessel, and under an agreement with the Navy, the ship came to Woods Hole. Chain's first nine cruises at WHOI were made with an MSTS crew. In 1959, WHOI assumed operation of the vessel.
Chain made a total of 129 scientific cruises, including a cruise that took her around the world in 1970-1971. She traveled some 600,000 miles and was used in every type of ocean science. Long a favorite for her seaworthiness, Chain's last cruise ended in December 1975. In June 1979 the vessel was towed away for scrap.
Specifications
Built: 1944 by the Basalt Rock Co., Napa, CA
Length: 213'
Beam: 41'
Draft: 16'16"
Capacity: crew-29, science-26
(Woods Hole Oceanographic Institution)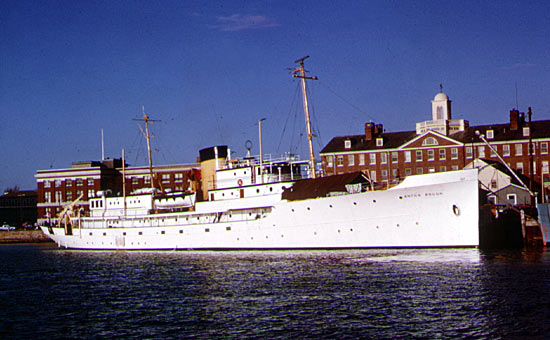 Anton Bruun, 1962-1964
Aras, a long graceful steel ship, was originally built for Hugh J. Chisholm of the Oxford Paper Co. as a private yacht. The US Navy purchased the vessel in April 1941, for $250,000, for use as a patrol gunboat and re-christened it USS Williamsburg.
In 1945, after a successful tour of duty in the North Atlantic, Williamsburg was to be converted to an amphibious-force flagship. Instead, she was refitted at the Naval Gun Factory, Washington, DC, as President Truman's yacht. President Eisenhower decommissioned the yacht in 1953 due to her high operating costs. The National Science Foundation acquired the vessel on 8/9/1962, refitted it for science, and christened it Anton Bruun in memory of the noted Danish marine biologist who chaired the first International Oceanographic Commission.
The vessel was chartered to WHOI for the International Indian Ocean Expedition, originally for a 4 year period. Anton Bruun made 9 legs of a cruise for this project, from March 1963 to December 1964, and then returned to the Navy in late December 1964. In 1980 the Endangered Properties Program planned to restore the vessel, but as late as 1984 nothing had been done.
Specifications
Built: 1931 by Bath Iron Works, Maine
Length: 244'
Beam: 36'
Braft: 16'
Names: Aras 1931-1941,
USS Williamsburg (PG-56) 1941-1962,
Anton Bruun 1962-1964
(Photo courtesty of WHOI Archives)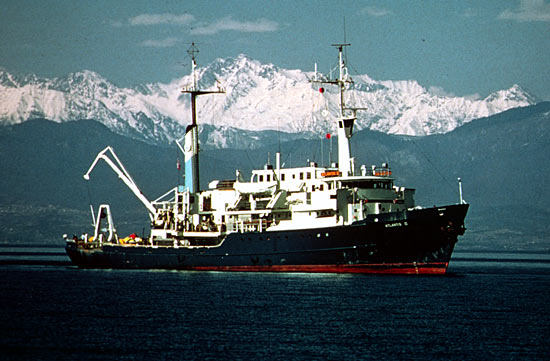 Atlantis II, 1963-1996
Atlantis II was named for the Woods Hole Oceanographic Institution's first research vessel. Long considered the flagship of the Institution's fleet, the ship traveled around the world and was involved with every type of ocean science investigation.
In 1979 Atlantis II underwent a major mid-life refit. The conversion of the vessels power source from steam to diesel reduced the vessel's operating cost, increased its range of travel, and increased its selection of ports.
In 1983 a deck hanger and A-frame were installed enabling her to handle the launch and recovery of the submersible Alvin. Atlantis II served as Alvin's tender from 1984 to 1996.
Atlantis II concluded 34 years of service, over one million miles sailed for science, and more than 8,000 days at sea, a record unequaled by any research vessel. In 1996 she was delivered to Shaula Navigation, based in Boulder CO for rechristening as Antares and a planned new career as a fisheries research vessel in the North Pacific and Gulf of Alaska.
Specifications
Built: 1963 Maryland Shipbuilding and Drydock Co., Baltimore, MD.
Designed: Bethlehem Steel Central Technical Dept., Quincy, MA, and M. Rosenblatt and Son, NY
Length: 210'
Beam: 44'
Draft: 17'
Speed, full: 13.5 knots
cruising: 12 knots
Endurance: 45 days
Capacity: crew-31, science 25
(Photo courtesy of WHOI Archives)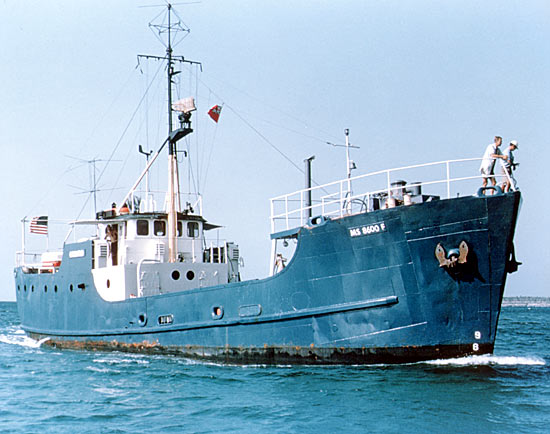 Gosnold, 1962-1973
The Woods Hole Oceanographic Institution purchased Explorer, a coastal cargo ship, in March 1962 from a marine salvage yard. As a way of distinguishing this ship from the many other "Explorers in existence, it was named Gosnold by its master Harry Seibert, naval architect John Leiby, and Port Captain John Pike in honor of the captain Bartholomew Gosnold, the first European to land and settle in Woods Hole (1602). The vessel made 206 cruises from Maine to South America and out to Bermuda, covering all types of ocean sciences. Gosnold was transferred to the Harbor Branch Oceanographic Institution, Florida, in October 1973, where it continued to work.
Specifications
Built: 1943 for the US Army at Kewanuee Shipbuilding Co.
Length: 99'
Beam: 21'6"
Draft: 11'
Capacity: crew -6, science - 7
Names: Explorer (F-76) 1943-1962, Gosnold
(Photo courtesty of WHOI Archives)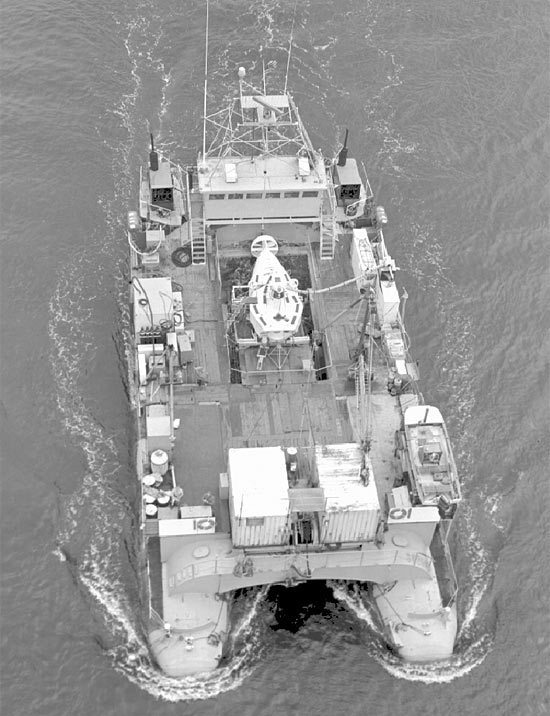 Lulu, 1965-1984
In March of 1965, Lulu headed to Florida, under tow, for the first test as the submersible Alvin's tender. The vessel began making regular trips with Alvin aboard in May 1965. Lulu made 119 cruises in the North Atlantic Ocean, including the Mid-Atlantic Ridge, Azores area, the Caribbean Sea, and in the eastern Pacific.
Lulu's last trip was in August of 1983. In September 1984, Lulu was transferred to San Diego for Navy use as tender to the submersibles Sea Cliff and Turtle, but was instead sold to private owners.
Specifications
Built: 1963-1964 in Woods Hole from two 96' Navy surplus mine sweeping pontoons by Dan Clark, Inc.
Length: 105'
Beam: 48'
Draft: 11'
(Woods Hole Oceanographic Institution)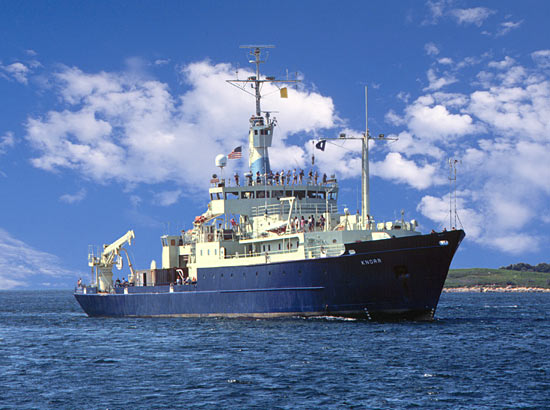 Knorr, 1970-2015
Knorr was delivered to WHOI in April 1970. R/V Knorr (AGOR-15) was named in honor of Ernest R. Knorr, a distinguished early hydographic engineer and cartographer who was appointed senior civilian and Chief Engineer Cartographer of the US Navy Hydographic office in 1860.
Knorr is an all purpose scientific vessel designed to accommodate a wide range of oceanographic tasks. Its forward and aft azimuthing propellers allow the ship to move in any direction or to maintain a fixed position in high winds and rough seas. The vessel's other unique features, like anti-roll tanks and ice strengthened bow, enable Knorr to travel the world's oceans.
In 1991 Knorr returned to WHOI after undergoing a 32 month major mid-life refit. The vessel was upgraded and refitted at the McDermott Shipyard in Amelia, Louisiana. An additional 34' was added to Knorr's length at the middle providing room for a new laboratory and machinery space. In addition, Knorr's twin azimuthing propulsion system was installed.
Replaced by Neil Armstrong 2015.
Sister ship: Melville, operated by Scripps Institution of Oceanography, University of California, San Diego.
Specifications
Built: 1968 by Defoe Shipbuilding Co., Bay City, Michigan. Designed and built under the direction of the Naval Systems Command, Supervisor of Shipbuilding, 9th Naval District
Length: 245' originally, 279' after refit
Beam: 46'
Draft: 16'
(Woods Hole Oceanographic Institution)
Alcoa Seaprobe, 1977
Alcoa Seaprobe, an all-aluminum vessel built specifically for deep ocean research and recovery, had a unique search pod enabling it to sweep the ocean floor and transmit data to the ship. The vessel could also core, drill, and sample mineral deposits down to 18,000 feet. The Woods Hole Oceanographic Institution used Alcoa in the 1970s to conduct tests of the ANGUS camera sled, and the Westinghouse side-scan sonar for pressure tests, and for underwater filming and photography.
Specifications
Built: 1970 by ALCOA (Aluminum Co. of America)
Length: 243'
Capacity: Crew-33, science-19
(Photo courtesty of WHOI Archives)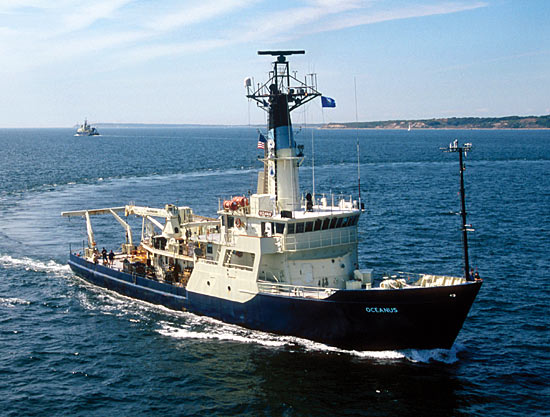 Oceanus, 1977 to present
Oceanus arrived in Woods Hole in November of 1975. The vessel is owned by the National Science Foundation (NSF) and operated by WHOI. She has worked extensively in the Atlantic on a variety of biological, chemical, geological, physical, and engineering cruises.
In 1994 Oceanus underwent an extensive 8 month mid-life refit at Atlantic Drydock in Jacksonville, Florida. The NSF provided a grant for the $3.5 million project to refit and upgrade the vessel's technology, equipment, and laboratories.>
Sister ships: Wecoma, operated by Oregon State University, and Endeavor, operated by the University of Rhode Island.
Specifications
Built: 1975 by Peterson Builders Inc., Sturgeon Bay, WI. Designed by John W. Gilbert Assoc., Inc., Boston for University-National Oceanographic Laboratories System (UNOLS).
Length: 177'
Beam: 33'
Draft: 17'6"
Full Speed: 14.5
Cruising Speed: 11.5
Endurance: 30 days
Capacity: crew-12, science-12
Capacity: Crew-33, science-19
(Photo by Tom Kleindinst, Woods Hole Oceanographic Institution)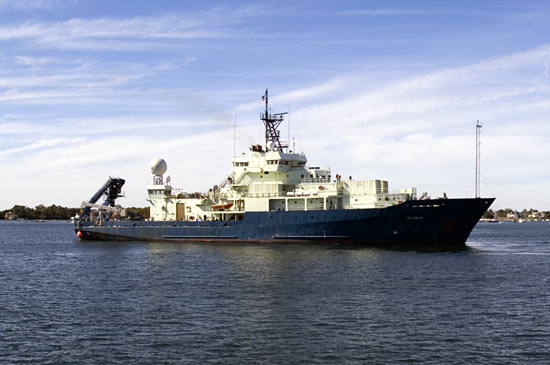 Atlantis, 1997-present
Atlantis replaced the Atlantis II and was named for WHOI's original research vessel. She made her first call in home port on April 1997. The new Atlantis has advanced support facilities to service and launch submersibles, such as Alvin, and a wide variety of ROVs at locations throughout the global oceans. She is one of the most sophisticated research vessels afloat, equipped with precision navigation, bottom mapping, and satellite communications systems.
Atlantis is owned by the US Navy and operated by the Woods Hole Oceanographic Institution in support of the US academic ocean research community.
Specifications
Built: 1997 by Halter Marine Inc., of Moss Point, Mississippi
Length: 274'
Beam: 52.5'
Draft: 17'
Capacity: crew-23, science-36
(Photo by Tom Kleindinst, WHOI)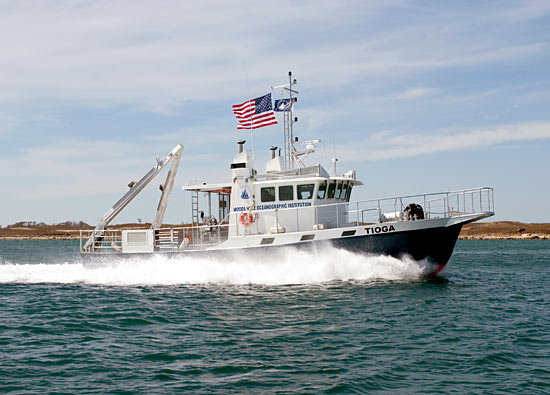 Tioga, 2004-present
R/V Tioga is an aluminum hulled coastal research vessel that serves ocean scientists and engineers working in the waters off the Northeastern United States and is solely owned by Woods Hole Oceanographic Institution. This small, fast research boat was designed and outfitted for oceanographic work close to shore. Speed allows Tioga to operate in narrow weather windows, meaning researchers can get out to sea, complete their work, and make it back before approaching foul weather systems arrive. Tioga can accommodate six people for overnight trips—including the captain and first mate—and up to 10 people for day trips. The boat is equipped with water samplers, a current profiler, and an echo-sounder, used by scientists to conduct seafloor surveys. Tioga has two winches, including one with electrical wires to collect real-time data from towed underwater instruments. Buoys can be deployed using the A-frame on the stern, which is similar in size to those on WHOI's large ships.
Specifications
Built: 2004
Length: 60 feet
Beam: 17 feet
Draft: 5 feet
Capacity: crew-2 (additional required for extended trips), science-6 bunks (10 people on day trips)
(Photo by Tom Kleindinst, Woods Hole Oceanographic Institution)
Neil Armstrong 2015 -
In May 2010, the Office of Naval Research selected the Woods Hole Oceanographic Institution to operate one of two new research vessels. The research vessel Neil Armstrong is scheduled for completion by 2015 and will replace R/V Knorr, which the Institution has operated since 1970. Named for the American hero whose "small step" provided humanity with a new perspective on our planet, this vessel will carry on its namesake's legacy of exploration.
The R/V Neil Armstrong meets the range, endurance, and technical requirements to support advanced oceanographic research in tropical and temperate oceans around the world. It will also serve the academic community's ongoing need for a general-purpose ship based on the East Coast of the United States.
The pivotal role that the North Atlantic and Arctic Oceans play in Earth's climate has resulted in an increase in efforts to observe these areas, as well new efforts to study North Atlantic ecosystems and their sustainability. R/V Neil Armstrong will be uniquely equipped and positioned to enable scientists from around the world to reveal new details about this critical part of the global ocean.
WHOI will contribute $350,000 annually toward the operation and maintenance of Neil Armstrong. In exchange, its scientists will receive preferential access to the ship schedule for about ten days a year. Various naming opportunities exist throughout the ship. Contact Rear Admiral Richard F. Pittenger USN (Ret.) 508-289-2597 to discuss ways to invest in the next generation of expeditionary oceanography.