Six Russian landing ships are on a regular supply run between Black Sea ports of Russia, mainly Novorossiysk and Tartus in Syria. The only chance to examine them up close is during their transit of the Bosphorus in Turkish waters.
Here is the list of ships used so far in 2015.
Project 775M
RFS Azov
Project 775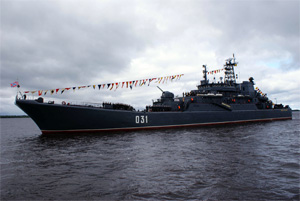 RFS Aleksandr Otrakovskiy (rusnavy.com photo)
RFS Aleksandr Shabalin
RFS Novocharkassk
RFS Tsezar Kunikov
RFS Yamal
Project 1171
RFS Nikolay Filchenkov
RFS Saratov
Photos and transit information courtesy of the authoritative Bosphorus Naval News except where noted.