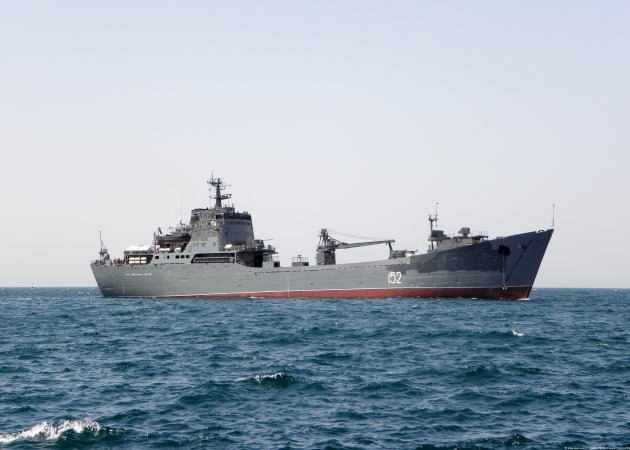 Nikolai Filchenkov photo via flot.sevastopol.info
February 12, 2016 (GOOGLE Translation)

The group YouTube received a request to delete the video with the song of a large amphibious assault ship sailors "Nikolai Filchenkov" about the loss of products.
An unknown person applied to the video service with a request to remove the video, because it violates personal privacy. Now the company will have to decide on the video.
The disappearance of food from the amphibious assault ship "Nikolai Filchenkov" has become one of the most controversial episodes of the Black Sea Fleet in 2015. Past prosecutor's check in May 2015 identified a number of irregularities in the organization of supply personnel, but ultimately prevent food loss could not . He served on the ship conscripts even recorded a song that has the line (starting 0:52) for stealing one of the crew members whose name TSVMP decided is cut from the video, "meat and potatoes" that the sailors have to "float" under the cover of night.
The military prosecutor's office of the Black Sea Fleet objectively comment on the situation on the BBC "Nikolai Filchenkov" failed.
HELP TSVMP
In February 2015, the editor of the Central Navy Portal has received a message from a former sailor BDK "Nikolai Filchenkov" in which he spoke about the poor quality of food, provided the sailors and other violations of the Charter of the Internal Service Armed Forces of the Russian Federation and the Russian legislation military ship. In the course of communication TSVMP correspondent with current and former sailors' Nicholas Filchenkova "information was confirmed. Many of them complained about the poor quality of products, and some types of foods, such as milk, condensed milk, juice, meat, and fish laid on the ship, and did a long time absent from the sailor menu.
Furthermore, some types of food the sailors had to unload a ship on the orders of a senior military rank. According to sailors, ship products exported from it realized through the private grocery store. "Our crew is often unloaded allegedly expired products, although there is still a shelf life of 2-3 years was paged milk, juice, canned food, as well as meat and fish, and the products we never ate..", - Said one of the sailors TSVMP currently already served compulsory military service and is retired. similar information was reported by the correspondent TSVMP several sailors. In addition, ten crew members were going to make a public statement about what is happening, but changed their minds at the last moment.