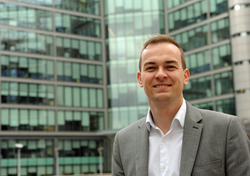 Ian Carr, Intermedix Market Development Director
April 6, 2016 - NATO War Games exercises - like the one recently filmed for the fictitious 'documentary' production, 'World War Three Inside the War Room' (BBC, February 2016) – play out hypothetical war scenarios that are all too probable in the imminent future. It is fundamental that the right technology platform is in place to co-ordinate such emergency scenarios and Intermedix's WebEOC fits the bill. It is available right now, following its successful launch in the UK, Europe and the rest of the world. WebEOC is a sophisticated, secure and fully scalable web-based tool for response and recovery tracking during emergencies, disasters, significant events, as well as daily operations and preparedness planning.
"Intuitive technology is crucial for preparedness, response and recovery in a war or terror situation. Having the right software and secure access, not just the right decision makers, is critical," said Ian Carr, Intermedix's Market Development Director, Europe. The controversial BBC documentary film production 'World War Three Inside the War Room' gives an insight into an intense NATO War Game based on a fictitious – but entirely possible - scenario. The film revolves around a committee of senior former British military and diplomatic figures coming together to war game a hypothetical 'hot war' in Eastern Europe, including the unthinkable - nuclear confrontation.
The WebEOC platform has been developed in consultation with leading global crisis management practitioners to enable a maximum situational picture to be seen from multiple locations by personnel across agencies whose involvement is paramount, including the armed forces, the diplomatic service, emergency services, hospitals, and public health. WebEOC's visual interface is a set of digital status boards, behind which infinite aggregated intelligence from various sources is automatically prearranged, easily manipulated and shared. A common operating picture is provided by live map-based displays with custom markers and web, tablet and smartphone interfaces. Deployment is optimised by intelligent recommendations for dispatch and coverage with integrated public alert and warning systems are integrated.
Ian Carr, said: "Drills and exercises are designed to evaluate plans, to identify weaknesses and to generate improvements in overall readiness. Sometimes the scenarios may seem a bit contrived or unrealistic, but disaster can't be predicted with certainty and being prepared for those scenarios can save lives and resources.
"Productions like 'Inside the War Room' might seem far-fetched, and can paint a frightening picture of the future. It's comforting to think that in such a scenario, with WebEOC our leaders are safe in the knowledge that they are making decisions in light of all the available real-time information at their fingertips."