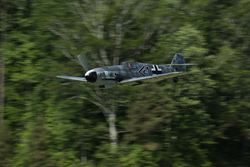 The Military Aviation Museum's Messerschmitt Bf 109 makes its first flight over U.S. soil.
May 20, 2016 - The Military Aviation Museum held the maiden flight of its restored Messerschmitt Bf 109 earlier today, Friday, May 20th, in preparation of the aircraft's participation in the Warbirds Over the Beach air show. This marks the aircraft's first flight over North American soil.
The restoration of this living piece of World War Two history began in 2004, when Meier Motors Company of Eschbach, Germany was contacted by museum. Painstaking effort was made to ensure the authenticity of the aircraft. A major stepping stone in this project was obtaining a genuine Daimler-Benz DB 605 engine, which came from a German Bf-110 that was retained by Switzerland after making an emergency landing at Dubendorf airport in 1944.
Through the contributions of many, the Bf 109 finally arrived at the Military Aviation Museum in October of 2015. Upon its arrival, the team of mechanics at The Fighter Factory pieced the aircraft back together and it remained on static display until getting approved for flight by the Federal Aviation Administration.