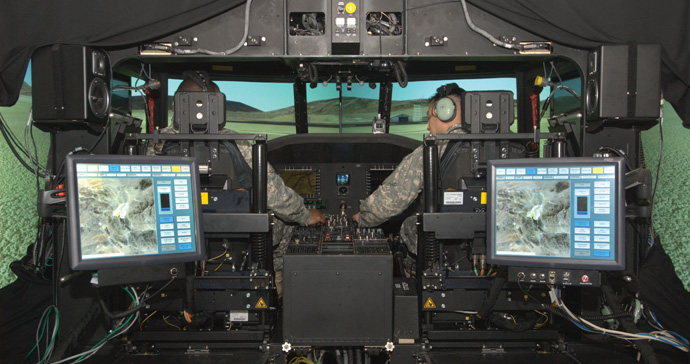 Rockwell Collins
July 8, 2016 - Rockwell Collins will deliver one Transportable Blackhawk Operations Simulator (T-BOS) and associated services to the Mexican Navy in Veracruz, Mexico, making this delivery the seventeenth T-BOS delivered to domestic and international customers for the UH-60M Blackhawk helicopter.
"This T-BOS system, to be delivered into Latin America, is a very cost effective solution to help train their Blackhawk pilots," said Alan Prowse, vice president and managing director, Americas for Rockwell Collins. "We believe this transportable solution is applicable to several operators in Latin America as part of their training and mission readiness needs."
The T-BOS is a high fidelity Blackhawk simulator that trains the Mexican Navy's UH-60M Blackhawk aviators in all skill sets needed to complete their missions safely in the new UH-60M Blackhawk helicopters. The T-BOS simulator's cockpit has the identical form, fit and function as the cockpit in the actual UH-60M aircraft. It flies with the actual aircraft avionics software and flight dynamics data.
"The flight characteristics of the UH-60M T-BOS are identical to those of the UH-60M helicopter, and the visual solution provides highly detailed realism resulting in a flight experience as close to actual flight as can be achieved in simulation," said LeAnn Ridgeway, vice president and general manager of Simulation and Training Solutions.
This specific T-BOS is the third of its kind with enhanced offerings that include an improved glass front projection display to provide visual portrayal of the landscape with high resolution collimated, depth perception, and the latest generation Rockwell Collins image generator with a highly detailed geo-specific database of the areas around Veracruz and Mexico City. In addition, the T-BOS incorporates ProSim™ projectors which not only provide crisp visual images but also superb visual solutions for night vision goggles training.
Rockwell Collins will deliver the UH-60M T-BOS solution for the Mexican Navy under a foreign military sales program. The T-BOS simulator will be manufactured in Sterling, Virginia, with follow on service and support activities executed in Mexico. Deliveries are scheduled to begin in June 2017.