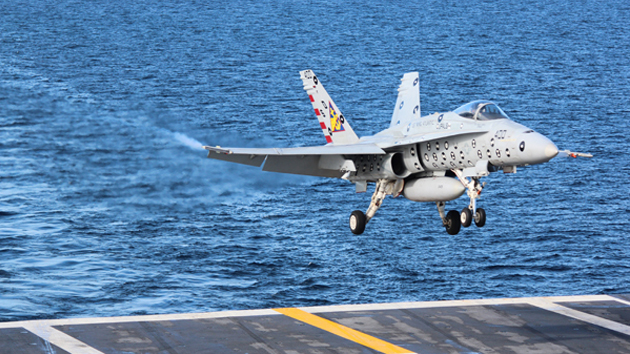 JPALS helps carrier-based pilots accomplish challenging missions using a ship-based precision approach and landing system that support all-weather operations.
October 20, 2016 - Rockwell Collins has received a $67 million, six-year contract from Raytheon Company (NYSE: RTN) in support of the U.S. Navy and Naval Air Systems Command (NAVAIR) to complete the subsystem development required for production of its next generation Joint Precision Approach and Landing System (JPALS). Rockwell Collins is a major supplier to the program and is designing, developing, testing and producing the subsystems for navigation and communication. The company is also providing significant systems engineering support, as well as integrated logistics.
JPALS is a Navy-certified, ship-based precision approach and landing system that supports all-weather carrier-based operations day or night across the spectrum from training to combat. JPALS utilizes Global Positioning System (GPS) technology and a secure two-way data link to provide surveillance, ship relative navigation and precision approach landing in and around the carrier controlled airspace.
"The JPALS system provides a new level of safety for carrier-based pilots that will help them accomplish their challenging missions," said Troy Brunk, vice president and general manager for Communication, Navigation and Electronic Warfare Solutions at Rockwell Collins. "The accuracy provided by the system — supported by our datalink and GPS subsystems — was proven during carrier trials using combat aircraft."
During flight trials, F/A-18C Hornets from the "Salty Dogs" of Strike Aircraft Test Squadron (VX- 23) successfully made more than 60 touch-and-go landings on the USS Theodore Roosevelt (CVN-71). In all, JPALS guided the Hornets to a "hands-off-the-stick" 3-wire landing to within approximately 20-centimeter accuracy.
"JPALS is clearly a safety and readiness- enhancing, game- changing capability which will extend the life of carrier- based aircraft, as well as allow the Navy to focus training on warfighting, rather than take-offs and landings," added Brunk.
"JPALS is one of Rockwell Collins' most significant programs supporting the U.S. Navy," said Phil Jasper, executive vice president and chief operating officer for Government Systems at Rockwell Collins. "For the past eight years, our team has been working to help ensure that Navy aircraft can successfully approach and land on a moving carrier in any environment."
Rockwell Collins has been a major supplier to this program since it began in 2008. This latest contract phase will help the JPALS program complete development and prepare for production of the Navy's current and future fleet, including the F-35.